Pneumatic Fitting Selection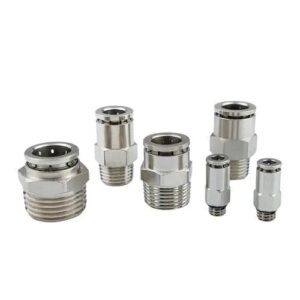 Nowadays, the push to connect fitting are widly used in current industry. For the reason of easy assemble and stable quality.We hereby wish to introduce the selection of Pneumatic Fitting.
Pneumatic Fitting features
Pneumatic Fitting are also called quick push in Fitting and quick plug fitting by many people. Although the names are different, as long as you master the basic three points, you can judge the joint and select the type.
1. Structural form
The so-called structural form is the appearance form of the joint formed in consideration of the piping direction, flow distribution, and connection. For example, T-type EPE, Y-type EPY, and straight-through EPC are all defined from the appearance and structure.
Processing method: If the customer who does not understand the product confirms remotely, taking pictures to confirm is the most direct method.
2. Confirm the outer diameter or inner diameter of air tubing
On the basis of confirming the structural form, we need to confirm the outer diameter or inner diameter of the air tubing. The general quick connector is for quick intubation of the trachea, so it is necessary to confirm the outer diameter or inner diameter of the trachea. For example, the straight-through connector EPU8, both ends are intubation. Confirm the outer diameter of the cannula. General trachea metric tubes, such as 4MM 6MM 8MM10MM 12MM 14MM 16MM, also have some other uncommon inch outer diameter trachea.
Confirmation method; 1: Look at the blue top number of the quick connector 2; Caliper is the outer diameter of the trachea
3. Confirm the thread
For threaded joints, it is necessary to confirm the thread specifications. There are many thread specifications. The common ones are R thread (also called PT thread) and G thread, and R thread is the most common. Generally, 1/8 is commonly known as 1 point, 1/4 is commonly known as 2 points, 3/4 is commonly known as 3 points, and 1/2 is commonly known as 4 points.
Methods: 1: Measure the outer diameter and pitch of the thread with professional tools such as calipers and tooth gauges. 2: Find a confirmed internal thread hole to unscrew and judge, which is relatively simple, direct and accurate.
Take an example based on the above three points: for example, the most common EPC8-02, EPC represents the structural form of the joint, 8 is the outer diameter of the trachea 8MM, and 02 represents the thread PT1/4.
Pneumatic Connectors Manufacturer
We are located in Ningbo and offer a wide variety of pneumatic fittings,Pneumatic Tube, Pneumatic Accessories, Pneumatic Push-in Fittings, Pneumatic Connectors. Products have been sold to the United States, Europe, and Southeast Asia for many years. Our joints are not only affordable, but also of stable quality.If you are looking for pneumatic fittings,please see following details.