Push in Fittings PXF Female Y is used to connect two tubes in the same direction from a male thread. External tightening with a flat wrench. Accommodate metric tubing O.D ranging from 4mm to 16mm, inch tubing O.D ranging from 1/8″ to 1/2″.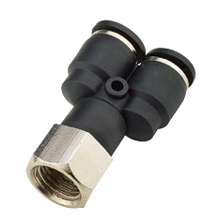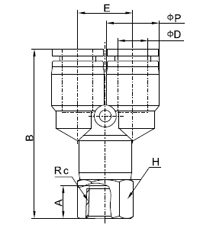 Application
1. One-touch joints used in pneumatic piping.
2. Used for a wide variety of modes to meet all needs.
Features
1. Quick installation, simple and flexible, space-saving, easy to connect tube by one touch.
2. Even after installation, the direction of tubing can be changed freely, all tapered threads are pre-coated with Teflon with fine seal performance.
3. Nickel-Plated brass body ensures anti-corrosion and anti-contamination.
4. Fittings are equipped with a Gasket, O-ring and Teflon-treatment on the thread.
Inch Tube Size: 1/8, 3/16, 1/4, 5/32, 3/8, 1/2
Thread Type: NPT, UNF, NPTF, SAE
Sleeve ( Collet ) Color: Blue, Black, Red, Grey, Green etc.
Sleeve ( Collet ) Shape: Round, Oval
Specification
Fluid
Air, Vaccum
Pressure Range
0~1.0 MPa
0~150 PSI
Negative Pressure
-100 Kpa(-750Torr)
-29.5 ln Hg
Max Pressure
1.5 Mpa
250PSI
Temperature Range
0 ~ 60 ℃
32~140F
Applicable Tube
PU (Polyurethane)
PA (Nylon)
Metric Tube ØD
4mm
5mm
6mm
7mm
8mm
9mm
10mm
12mm
14mm
15mm
16mm
Inch Tube ØD
1/8″
5/32″
3/16″
1/4″
5/16″
3/8″
1/2″
Thread Standard and Type
R, PT, BSPT — 55° Taper Pipe Thread
Metric Thread
R1/8
R1/4
R3/8
R1/2
M5 x 0.8
M6 x 1
M8 x 1
M10 x 1
M12 x 1.25
M14 x 1.5
M16 x 1.5
M20 x 1.5
UNF
NPT — 60° American Standard Taper Pipe Thread
10-32UNF
NPT1/8
NPT1/4
NPT3/8
NPT1/2
Inch Tube (inch)--Thread (NPT)
| Part No. | Tube ΦD | Thread (NPT) |
| --- | --- | --- |
| PXF 1/8-U10 | 1/8" | 10-32UNF |
| PXF 1/8-N01 | 1/8" | NPT1/8 |
| PXF 1/8-N02 | 1/8" | NPT1/4 |
| PXF 5/32-U10 | 5/32" | 10-32UNF |
| PXF 5/32-N01 | 5/32" | NPT1/8 |
| PXF 5/32-N02 | 5/32" | NPT1/4 |
| PXF 3/16-U10 | 3/16" | 10-32UNF |
| PXF 3/16-N01 | 3/16" | NPT1/8 |
| PXF 3/16-N02 | 3/16" | NPT1/4 |
| PXF 3/16-N03 | 3/16" | NPT3/8 |
| PXF 1/4-U10 | 1/4" | 10-32UNF |
| PXF 1/4-N01 | 1/4" | NPT1/8 |
| PXF 1/4-N02 | 1/4" | NPT1/4 |
| PXF 1/4-N03 | 1/4" | NPT3/8 |
| PXF 1/4-N04 | 1/4" | NPT1/2 |
| PXF 5/16-N01 | 5/16" | NPT1/8 |
| PXF 5/16-N02 | 5/16" | NPT1/4 |
| PXF 5/16-N03 | 5/16" | NPT3/8 |
| PXF 5/16-N04 | 5/16" | NPT1/2 |
| PXF 3/8-N01 | 3/8" | NPT1/8 |
| PXF 3/8-N02 | 3/8" | NPT1/4 |
| PXF 3/8-N03 | 3/8" | NPT3/8 |
| PXF 3/8-N04 | 3/8" | NPT1/2 |
| PXF 1/2-N01 | 1/2" | NPT1/8 |
| PXF 1/2-N02 | 1/2" | NPT1/4 |
| PXF 1/2-N03 | 1/2" | NPT3/8 |
| PXF 1/2-N04 | 1/2" | NPT1/2 |
Inch Tube (inch)--Thread (PT, R, BSPT)
| Part No. | Tube ΦD | Thread (PT, R, BSPT) |
| --- | --- | --- |
| PXF 1/8-01 | 1/8" | R1/8 |
| PXF 1/8-02 | 1/8" | R1/4 |
| PXF 5/32-01 | 5/32" | R1/8 |
| PXF 5/32-02 | 5/32" | R1/4 |
| PXF 3/16-01 | 3/16" | R1/8 |
| PXF 3/16-02 | 3/16" | R1/4 |
| PXF 3/16-03 | 3/16" | R3/8 |
| PXF 1/4-01 | 1/4" | R1/8 |
| PXF 1/4-02 | 1/4" | R1/4 |
| PXF 1/4-03 | 1/4" | R3/8 |
| PXF 1/4-04 | 1/4" | R1/2 |
| PXF 5/16-01 | 5/16" | R1/8 |
| PXF 5/16-02 | 5/16" | R1/4 |
| PXF 5/16-03 | 5/16" | R3/8 |
| PXF 5/16-04 | 5/16" | R1/2 |
| PXF 3/8-01 | 3/8" | R1/8 |
| PXF 3/8-02 | 3/8" | R1/4 |
| PXF 3/8-03 | 3/8" | R3/8 |
| PXF 3/8-04 | 3/8" | R1/2 |
| PXF 1/2-01 | 1/2" | R1/8 |
| PXF 1/2-02 | 1/2" | R1/4 |
| PXF 1/2-03 | 1/2" | R3/8 |
| PXF 1/2-04 | 1/2" | R1/2 |
Metric Tube (mm)--Thread (NPT)
| Part No. | Tube ΦD | Thread (NPT) |
| --- | --- | --- |
| PXF 04-N01 | 4mm | NPT1/8 |
| PXF 04-N02 | 4mm | NPT1/4 |
| PXF 06-N01 | 6mm | NPT1/8 |
| PXF 06-N02 | 6mm | NPT1/4 |
| PXF 06-N03 | 6mm | NPT3/8 |
| PXF 06-N04 | 6mm | NPT1/2 |
| PXF 08-N01 | 8mm | NPT1/8 |
| PXF 08-N02 | 8mm | NPT1/4 |
| PXF 08-N03 | 8mm | NPT3/8 |
| PXF 08-N04 | 8mm | NPT1/2 |
| PXF 10-N01 | 10mm | NPT1/8 |
| PXF 10-N02 | 10mm | NPT1/4 |
| PXF 10-N03 | 10mm | NPT3/8 |
| PXF 10-N04 | 10mm | NPT1/2 |
| PXF 12-N01 | 12mm | NPT1/8 |
| PXF 12-N02 | 12mm | NPT1/4 |
| PXF 12-N03 | 12mm | NPT3/8 |
| PXF 12-N04 | 12mm | NPT1/2 |
| PXF 14-N02 | 14mm | NPT1/4 |
| PXF 14-N03 | 14mm | NPT3/8 |
| PXF 14-N04 | 14mm | NPT1/2 |
| PXF 15-N02 | 15mm | NPT1/4 |
| PXF 15-N03 | 15mm | NPT3/8 |
| PXF 15-N04 | 15mm | NPT1/2 |
| PXF 16-N02 | 16mm | NPT1/4 |
| PXF 16-N03 | 16mm | NPT3/8 |
| PXF 16-N04 | 16mm | NPT1/2 |
Metric Tube (mm)--Thread (PT, R, BSPT)
| Part No. | Tube ΦD | Thread (PT, R, BSPT) |
| --- | --- | --- |
| PXF 04-M5 | 4mm | M5 |
| PXF 04-M6 | 4mm | M6 |
| PXF 04-01 | 4mm | R1/8 |
| PXF 04-02 | 4mm | R1/4 |
| PXF 06-M5 | 6mm | M5 |
| PXF 06-M6 | 6mm | M6 |
| PXF 06-01 | 6mm | R1/8 |
| PXF 06-02 | 6mm | R1/4 |
| PXF 06-03 | 6mm | R3/8 |
| PXF 06-04 | 6mm | R1/2 |
| PXF 08-01 | 8mm | R1/8 |
| PXF 08-02 | 8mm | R1/4 |
| PXF 08-03 | 8mm | R3/8 |
| PXF 08-04 | 8mm | R1/2 |
| PXF 10-01 | 10mm | R1/8 |
| PXF 10-02 | 10mm | R1/4 |
| PXF 10-03 | 10mm | R3/8 |
| PXF 10-04 | 10mm | R1/2 |
| PXF 12-01 | 12mm | R1/8 |
| PXF 12-02 | 12mm | R1/4 |
| PXF 12-03 | 12mm | R3/8 |
| PXF 12-04 | 12mm | R1/2 |
| PXF 14-02 | 14mm | R1/4 |
| PXF 14-03 | 14mm | R3/8 |
| PXF 14-04 | 14mm | R1/2 |
| PXF 15-02 | 15mm | R1/4 |
| PXF 15-03 | 15mm | R3/8 |
| PXF 15-04 | 15mm | R1/2 |
| PXF 16-02 | 16mm | R1/4 |
| PXF 16-03 | 16mm | R3/8 |
| PXF 16-04 | 16mm | R1/2 |