Misting System Fittings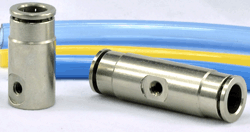 slip-locks misting system fittings, as the name describes, slip together and lock. In the misting industry these fittings are made of of nickel plated brass. The tubing used is high pressure nylon. The locking occurs under pressure. The greater the pressure the harder they lock.
With the push to connect style fittings, you can install the misting system fast and easy. you just push the Nylon tubing into the fitting and it instantly locks into place ensuring a watertight seal. Unlike compression style fittings found on other misting systems, there are no fittings to tighten with a wrench and you don't have to worry about perfectly lining up the tubing inside the fitting.
There are several different slip-lock fittings available. They consist of coupling union, unions with 10-24 UNC, 10-32 UNF, M5, M6 to connect a nozzle, Tees, Ells, Ends with 10-24 UNC, 10-32 UNF, M5, M6.
The fittings include a heavy duty body, thicker locking ferrule, and an over sized NBR o-ring. The unique design of these fittings allows them to be easily removed, replaced, or re-installed any time after the initial installation. No special tools or crimping procedures are required.