Silence the Noise with Our Pneumatic Silencers – Made in China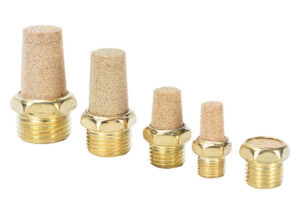 As a professional pneumatic silencers manufacturer in China, we take pride in our high-quality products that are designed to reduce noise pollution in various industries. Our products are used in a wide range of applications, including in factories, power plants, and transportation systems. With our state-of-the-art technology and experienced team of engineers, we are committed to providing the best silencers and noise reduction solutions to our customers.
What are Pneumatic Silencers?
Pneumatic silencers are devices that are used to reduce the noise generated by pneumatic equipment, such as compressors, valves, and cylinders. They work by absorbing the sound waves and reducing the velocity of the compressed air, which results in a quieter and more efficient system. Our pneumatic silencers are made from high-quality materials, such as stainless steel and brass, and are available in various sizes and shapes to suit your specific needs.
Benefits of Using Pneumatic Silencers:
There are numerous benefits to using pneumatic silencers in your industrial applications. Firstly, they help to reduce the noise levels, which can have a positive impact on the health and safety of workers. Excessive noise can lead to hearing loss, stress, and other health problems, so it's essential to take measures to reduce it. Secondly, pneumatic silencers can improve the efficiency of your pneumatic systems by reducing the pressure drops that occur when air flows through the system. This can result in energy savings and improved productivity.
Our Manufacturing Process:
At our factory in China, we use the latest technology and equipment to manufacture our pneumatic silencers. Our team of experienced engineers and technicians work closely together to ensure that each product meets our high standards of quality and performance. We conduct rigorous testing at every stage of the manufacturing process to ensure that our products are reliable and long-lasting.
Customized Solutions:
We understand that every customer has unique needs and requirements, which is why we offer customized solutions for our pneumatic silencers. Whether you need a specific size, shape, or material, we can work with you to create a product that meets your exact specifications. We also provide technical support and advice to help you choose the right product for your application.
Conclusion:
If you're looking for high-quality pneumatic silencers manufacturer that are designed to reduce noise pollution and improve the efficiency of your systems, look no further than our company in China. We are committed to providing the best products and solutions to our customers, and we are confident that we can meet your needs. Contact us today to learn more about our products and services.