Stainless steel quick connectors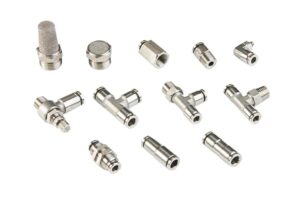 Performance characteristics
They are characterized by high strength, good corrosion resistance, resistance to deformation, ability to withstand high temperature environments, resistance to external corrosion, excellent acid and alkaline resistance, and very long service life, making stainless steel quick connectors more widely used in industry.
Another characteristic of stainless steel quick connect fittings is their excellent heat flow performance, which can withstand the impact of high temperatures, and have low resistance. They can improve the flow rate of the fittings, reduce leakage, and improve the efficiency of the product.
Application scenarios of quick connectors
Stainless steel quick connectors are widely used in industries such as chemical engineering, petroleum, metallurgy, electric power, thermal power, environmental protection, water treatment, medicine, food, paper making, and construction. They can connect steel pipes, aluminum pipes, copper pipes, and plastic pipes.
Advantages of Stainless Steel Quick Connectors
They can be quickly installed without tightening bolts, which can save installation time and reduce installation costs. They can also be quickly removed when replacing pipes, making it more convenient.
The advantages is corrosion resistance, heat resistance, acid and alkali resistance, high strength, and high dimensional accuracy. They can effectively resist the erosion of the external environment, making their industrial applications more widespread.
In addition, the manufacturing process of them is simple, and installation is simple. The steps of tightening bolts are omitted, greatly saving installation time and reducing installation costs.
Finally, the high reliability of stainless steel quick connect fittings, which can resist external corrosion, have excellent acid and alkaline resistance, and have a very long service life, making their application in industry more widespread.
1.STAINLESS STEEL
MATERIALTESTING THE CHEMICAL EL .EMENTS OF MOLTEN STEEL IN TMCE DURING THE MELTING TO MAKE SURE THE RIGHT MATERIAL STANDARD. USUALLY, WE APPLY TO THE ASTM A351 MATERIAL STANDARD.
2.PRECISION CASTING
WE ADAPT SILICA SOL PRECISION CASTING TECHNOLOGY, WHICH CAN PRODUCE BETTER QUALITY THAN TRADITIONAL CASTING PROCESS. EACH PROCESS IS STRICTLY CONTROLLED BY OUR PROFESSIONAL TECHNIC STAFFS.
3.MANY TIMES INSPECTION
DURING THE WHOLE PRODUCTION PROCESS,IT NEED TO PASS MORE THAN 5 TIMES OF INSPECTION, INCLUDING VISUAL AND MACHINE TESTING. .